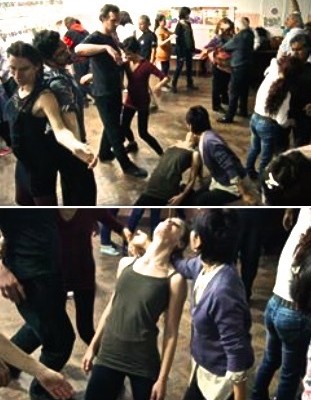 Backed up by psychological theory, Psico-Tango is a methodology that uses the basic steps of tango dance and music. It proposes activities that promote emotional well being and health enhancement. The method, evolved over the past fifteen years has matured to the point that many people attend the Wednesday group sessions offered by Ignacio Lavalle and Monica Peri in barrio Once. The sessions are fun and catalysts of change.
Today I decided to be a participant because my body felt annoying and particularly heavy. About fifteen of us gathered in the cozy home of one of the leaders and sipped the welcoming mate as we arrived. With the initial seemingly simple exercise I gained awareness about the subjective experience of my body.
A number of interesting non verbal activities specially constructed for this group followed. We stretched and relaxed on the floor, got up and formed a small circle. From such circle a number of organic experiences were proposed. At the end of the session we sat down on the floor to share personal comments
I walked out of this two-hour encounter with body and mind feeling light and ready to move.