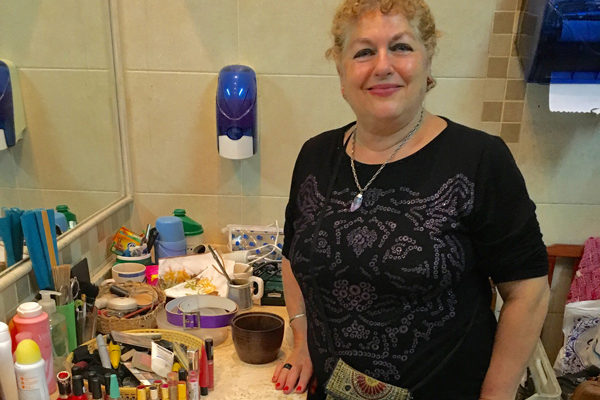 Some years ago I wrote about an unseen, indispensable protagonist of the milonga. Invaluable for women dancers in need of a break from the pista, lipstick, or just someone willing to listen to their distress about the dances they wre not getting.
After entering a milonga, back in 2007, this is what I said about them in my book:
My first ritual is to change shoes in the bathroom. It is run by a female attendant, la señora del baño, an invaluable character mixture of mother and counselor who is behind the scenes. Her dancer's "emergency room" is equipped with essential paraphernalia for tangueras: combs, makeup, lipsticks, nail polish, nail files, super glue, hand mirrors. I begin to grasp the milonga mood right here. Women talk about the dances they had, and the ones they could have had. La señora del baño listens with empathy. Amid this bathroom camaraderie, my stilettos leave the darkness of my purse and become a part of me. Now I am a dancer. Completed, I walk into the dance hall. The usual. The staring. What are those eyes thinking? …
(Excerpt from "In Strangers' Arms," p.63)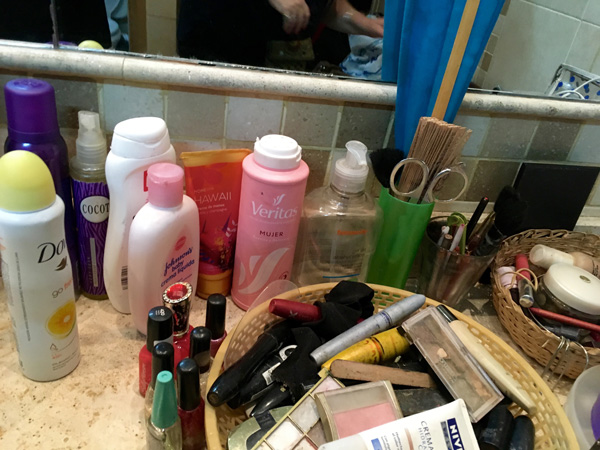 During my recent stay, I noticed few Señoras del baño. In inflationary times, living from small tips is not glamorous.
We can no longer take these workers for granted. Either we must tip generously or we may loose them.
This is señora del baño at Nuevo Chiqué. Year after year, I had noticed her admirable disposition. Her easy smile is welcoming and particularly refreshing when men dancers do not look or smile.
She allowed me to photograph her. As you can see, she stands proudly guarding her fully equipped station. She is always dressed for a milonga she will never attend. Do you notice her black sparkly attire and silver colored ballerina flats?
Indulging in nostalgia for the future, á la Borges, I wondered how dancers would survive without a señora del baño, without her smile, her Johnson and Johnson baby cream, Hawaii hand cream, Veritas deodorant, Dove brand lemon scented cream, and so much more? Who does not need at least seven lipsticks and a minimum of eight colors of nail polish? What I would miss most is not counting on such loyal camaraderie a few steps from the action.