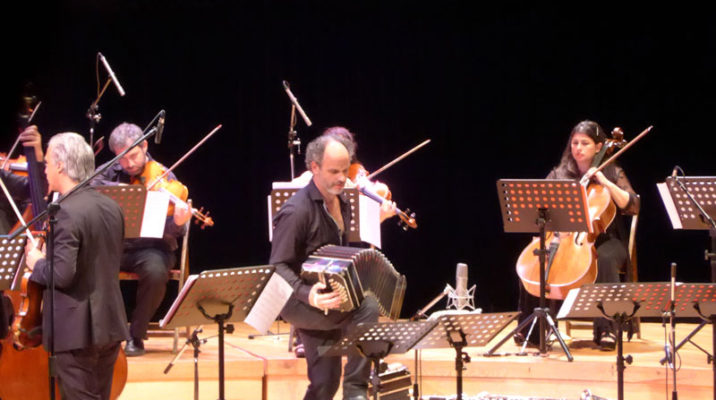 This is the event I have been looking forward since it was announced at the CCK programación. I knew not to expect tango music from the forties. This was my opportunity to experience Marcelo's compositions and arrangements, live, in our motherland. Live concerts do offer the additional opportunity to connect with artists in a way that listening to a CD does not allow.
An expatriate since 1998, Marcelo has resided in Basel and Paris. Today he plays with the with the Camerata located in an elevated semi-circle around the artists. The combined talent of bandoneonista Marcelo Nisinman,  violinista Pablo Agri, pianista Cristian Zárate and clarinetista Mariano Rey gave us an unforgettable performance.
Marcelo's own composition "La cuidad triste," his arrangement of Piazzola's "Las cuatro estaciones Porteñas" and Oblivion, his collaborative work with Cristian Zarate were some of the gems of the night.
There was a moment of high emotion: Agri commented that Marcelo, Zarate and himself were childhood friends. We watched an impetous embrace of the trio. Their eyes (and the audience's) were probably swelling in tears.