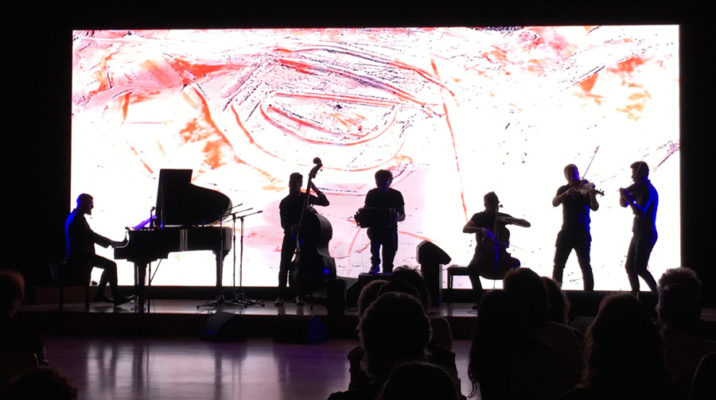 Buenos Aires, April 1, 2017. Centro Cultural Kirchner
The quality and quantity of tango musicians born and raised in the germinal belly of "all things tango" that is Buenos Aires never ceases to amaze me.
On the 9th floor of the CCK "The Cúpula," or observatory, an orchestra unknown to me, "Rascasuelos," floded my senses in a couple of seconds. Was it the quality of its musicians, the overall display of talent, the digital art-work projected in a constantly moving backdrop, the singing of Hector Limón García (who descended from the rock scene) with the raspy voice that brought to mind the voices of Goyeneche and Merello? Rascasuelos created high drama on stage as fusion of classical tango with elements of rock, lyrics delivered through a certain pain…and dramatic dancers. The mix of contemporary and ballet Tango dance-fantasy we watched was appealing. I was surprised the presentation was so appealing to me, a lover of traditional nostalgic compositions.
A couple of lines from the lyrics stayed with me: "my mother sung tango to express her pain," … "my last curda (drunkenness) will be the very best." Their delivery was superb.
I kept pondering: "Where have these artists been during the past few years?" But … this is Buenos Aires, my friends. You may never hear about a band until after they played at "Carnegie Hall" in New York City. This is the case of Rascasuelos.
Searching for information I learned that Rascasuelos was founded in 2009. Their 2010 CD included the group's own compositions and those of other contemporary composers. The musicians view themselves as belonging to the tradition of tango orquestas of the decade of the 50s and 60s, incorporating later genres.
Its sound has been described as "tangero, urban, contemporary and Rioplatense."
All themes played last night were new to me. All of them a breath or even better said, a mouthful of fresh air. Many contemporary tango orquestas compose their own pieces. No more relying on Golden Era songs. The idea is to renew tango. To move on to themes of the XXI century.
Rascasuelos or Rascacielos? Two groups or one?
Actually Rascasuelos also presents a show called Rascacielos, devoted to tradicional and danceable tangos geared to milongueros. Its reppertoire includes: Osvaldo Pugliese, Juan D' Arienzo, Aníbal Troilo, Carlos Di Sarli, among others. They have played at Milonga en Orsay, in barrio de San Telmo and at the Sunday milonga Torquato Tasso. Rascasuelos may have been known to people more local than myself.
A  do have a request to Rascasuelos. Please change dancing themes suggestive of violence to women.