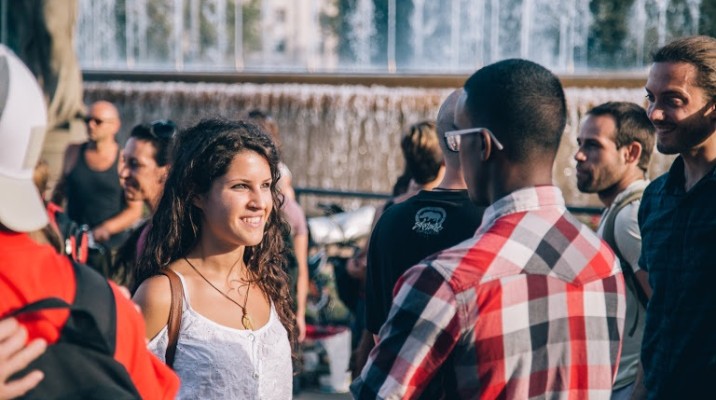 Buenos Aires.
October 15, 2015. 4:30 PM
I co-hosted the Buenos Aires Eye Contact Experiment.  Getting ready for the event was as bonding, loving and inspirational as carrying it out.
It was globally hosted by the Liberators International based in Australia. 39 countries and 137 major cities held similar events simultaneously.
Its purpose was to provide a public opportunity for people to discover what happens when we intentionally share eye contact with strangers. It intended to raise awareness of the need to recover something we are loosing in society: our shared humanity, eye to eye contact with strangers, the embrace of people we do not know. Our values: freedom, democracy, inclusion, diversity. 
These values are embedded in the very essence of our eminently human Argentine Tango dance. I was delighted to see a worldwide movement spousing such values.
The event was done October 15th. In the words of Peter Sharp, central coordinator from Australia, "We just pulled off the biggest eye contact experience in the world, and what an incredible response we've received! The stories that are coming in are touching and are sending powerful waves through the hearts of the people."
Our experiences in Buenos Aires were rich of humanity. A young woman broke into tears because "suddenly" she realized she desperately wanted to be with her deceased mother. Mother and daughter wanted to engage in eye contact because they do not have "time to do that at home."
Volunteers shared precious moments to keep.