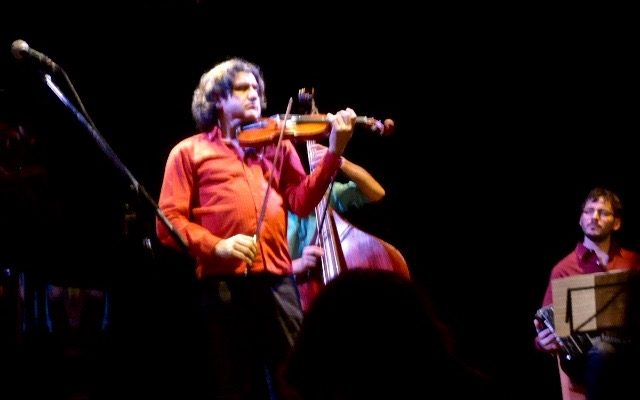 Buenos Aires. Café Vinilo.
I was fortunate to listen to Ramiro Gallo in Portland, Oregon, 3 years ago. On such occasion he played with the Chamber Music Northwest at Reed College's auditorium. Hopefully I will see him again at Reed College this coming June 2017, when he returns to be part of the faculty of the one-week tango intensive for international musicians who attend to learn the secrets of playing Argentine tango music.
I watched his Quinteto play last February 2017 at the Centro Cultural Kirschner in Buenos Aires.
Tonight I am leaving home to watch his Quintet once again, with the certainty that I will enjoy exquisite music in cozy Café Vinilio.
Ramiro composes the music for his Quintet, plays the violin with heart and vigor, directs the Quintet, and tonight, for the first time I experience another facet of his creativity: the pure heart lyrics he writes. Roma Ramirez sings them.
We were enchanted with her voice. What a masterful delivery! Roma seems to be the perfect fit for the Quintet.
I must get a hold of one of the lyrics … the one about the patio of childhood we carry within our hearts…
Addendum 5-20-15
Ramiro sent me his lyrics upon my request. I am posting a few verses.
Un pedacito de tierra…
Un pedacito de cielo.
Quién pudiera tener un patio,
y en ese patio el mundo entero.
Here is my home made video of Ramiro Gallo Quintet at Café Vinilio: