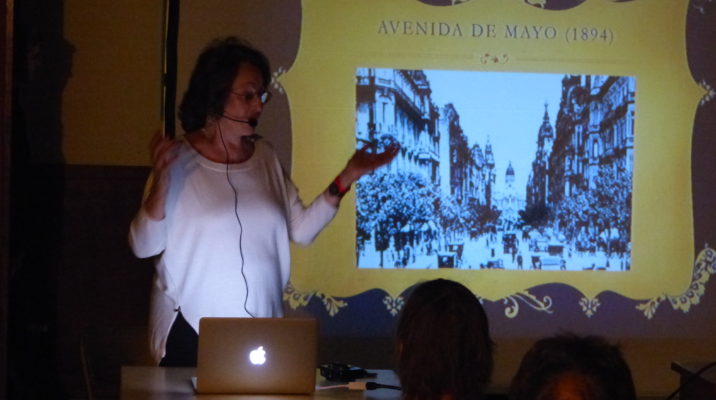 Where: 2017 Portland Tango Festival
When: October 13, 2017. Norse Hall. Downstairs. 3:00 – 4:15
The festival included a different type of class, a class that teaches not the moves and physicality of tango dance, but immerses dancers in the philosophy of tango as expression of a culture. Tango (dance – music – lyrics) are an organic  expression of the very peculiar culture of Buenos Aires. This statement cannot be made about any other city in the world, past or present.
I was delighted to see quite an increase of interest in the culture of tango – as compared to prior years.
Narration and visual presentation covered two topics: "Artistic and social landscapes," and "Humans of Buenos Aires." The PowerPoint consisted of photographs collected during my trips to Buenos Aires (2008-2017)
Artistic and social landscapes
We explored the existing arts and their passionate audiences during the period of tango formation (Guardia Vieja I, 1895-1909), and its formalisation (Guardia Vieja II, 1910-1924). We discussed slides showing the three arenas where people commingled across social strata during the above mentioned periods: Tango, circus, theatre, and opera. We asked why international opera stars loved to perform in BA from 1806 (Colonial times) onward. We raised questions as to the possible influence of operatic singing in the tango singing style as created by Carlos Gardel.
A number of slides showing "porteños" in various life situations captured the idiosyncracies of today's inhabitants. Realising that they are the grandchildren and great-gradchildren of immigrants at the turn of the century is the most direct way to experience the way of being that became a dance in the social imagination over 130 years ago. Porteños are playful beings. One of their ways of playing is the piropo. We watched a little boy being trained by his father in piropo offerings. We discussed how the piropo is alive at milongas today. And how they are represented in tango lyrics and songs, going back to Alfredo and Flora Gobbi and Angel Villoldo.
Group discussion.